Product #00271R
SmartControl Spout Replacement
---
Where To Buy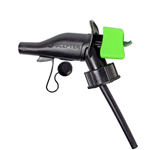 Product #00271R
SmartControl Spout Replacement
---
Available at These Valued Retailers:
---
Product Description
Scepter® SmartControl™ fuel containers are the next generation of rugged gas cans that provide a clean, fast and hassle-free experience. The SmartControl spout's squeeze controlled flow rate makes filling everything from lawnmowers to recreational vehicles a cleaner, safer, better experience - without spilling a drop. Smart. Rugged. Trusted. Scepter.
SmartControl Replacement Spouts are for Scepter fuel containers that have a Green Child Safety Ring on the Neck ONLY!
Benefits
Easy To Pour
Controllable Flow
Fast Fills without the Spills